GeoForAll community are pleased to share the summary and recording of the webinar mini-conference on  "GeoForAll contributions to the United Nations Sustainable Development Goals" during World Commons Week 2019.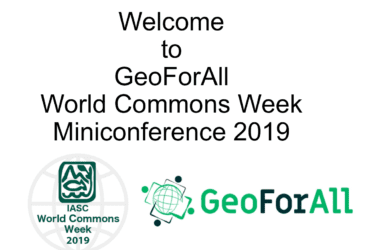 An important element of World Commons Week 2019 are establishing coordinated local events all over the world on commons related issues and practice. As part of the  World Commons Week 2019,  there are a multitude of local events organized in different parts of the world all dedicated to raising awareness about the scholarship and practice of the Commons in many thematic areas, including water, forests, fisheries and marine settings; the global atmosphere; infrastructure, urban and rural areas; technology and software; and knowledge sharing and co-production.
On 10thOctober 2019,  GeoForAll miniconference  as part of World Commons Week 2019 started with a welcome by Dr. Victoria Rautenbach (GeoForAll chair). Victoria welcomed all to GeoForAll and showed how new partcipants can join and make use of the software and educational resources.  GeoForAll is the Open Source Geospatial Foundation's Education initiative and works in close collaboration with ICA, ISPRS, UN-GIS, AGILE, UCGIS , IGU , YouthMappers and other partners worldwide in our mission for making geospatial education and digital economy opportunities accessible to all [1].
The presentation from Sergio Y Lara (Uruguay) on gvSIG Batovi is an excellent example of a successful initiative in Open Principles in Education and helps us to understand why scalability and costs for scaling is fundamental . Through their focus on Open Principles in Education they have now provided high quality spatial education to students in all schools across Uruguay . Thanks to the Plan Ceibal they also have free laptops for all Primary and Secondary students in the country so they truly have the opportunity to reach every student with high quality teaching and learning tools. Details at https://www.youtube.com/watch?v=orwN9K07XPo  (Video with English translation)
The presentation from Victor Sunday  (Unique Mappers Team) shares the work on  youth and women empowerment that they are doing in Africa . Their contributions to quality education, climate action is inspiring. GeoForAll is working closely with YouthMappers and other partners worldwide to help provide geoeducation opportunities for all students.
The presentation from Cameron Green (University of Pretoria, South Africa) highlighted the importance of Spatial Data Infrastructures (SDI) and the fundamental link of SDI to all 17 UN SDGs. Many developing countries lack Spatial Data infrastructures which is key for evaluating and monitoring SDG progress.  He showed GeoNode http://geonode.org     an open source Content Management System for GIS. There are many examples of Geonode implementations for example the World Food Program https://geonode.wfp.org that might be of wider interest.
Suchith Anand (Chief Scientist, Global Open data for Agriculture and Nutrition)  presented on  the importance of Open Principles in Science and Education. He showed examples of how by combining the potential of free and open geospatial software, open data, open standards and open access to research publications will enable the creation of a sustainable innovation ecosystem for helping solve global cross disciplinary societal challenges from climate change mitigation to zero hunger. Service for the benefit and betterment of humanity is a key fundamental principle of GeoForAll and we want to contribute and focus our efforts for the United Nations Sustainable Development Goals. Free and Open Source Software for Geospatial has now made it possible for a large number of  government organisations, private companies and academics in both developed and developing countries to make use of geospatial software in many application domains. This will ensure that geo education and geo digital economy opportunities are also available to economically poor countries and economically poor people worldwide.  Central to "Geo for All" mission is the belief that knowledge is a public good and Open Principles in Education will enable broadly shared prosperity for all.
The presentations were followed by Q&A from the participants. We thank all presenters and particpants and the wider GeoForAll community for their contributions.
As our next step, we to want learn from successful initiatives like gvSIG Batovi, GIS at School etc to scale our teacher training programs for schools  to provide geoeducation and STEM education opportunities to millions of students globally. Spatial Education is key for tackling Climate Change. One of our GeoForAll labs established at the UNEP/GRID-Warsaw Centre in Poland has been doing pioneering work on Environmental Management , Active Education over many years. One of the inspiring work that they are involved is the GIS at School http://www.edugis.pl/en/images/stories/guide/gis-at-school.pdf
We welcome ideas and inputs from all interested. We thank Dr Rafael Moreno at UC Denver for hosting the mini-conference and Prof. Charles Schweik (UMass Amherst) who is lead organiser of the WCW2019 for inviting GeoForAll community to share ideas.
GeoForAll Mini-conference webcast recording is available at  https://www.youtube.com/watch?v=Bd8Oe1Z-p3E
Topic Start and End Time in the video.
[1] /foundation-news/please-share-geoforall-teaching-research-resources-colleagues-students/