The International Centre for Integrated Mountain Development (ICIMOD) has been organizing the "Empowering women in geospatial information technology" training under its SERVIR Hindu Kush Himalaya (SERVIR-HKH) Initiative for the past two years. The training course, extended exclusively to young women from Nepal, provides them with theoretical as well as practical knowledge in the use of EO data and GIT using real-world examples from the HKH region. In its third iteration and in light of the ongoing COVID-19 pandemic, this intensive four-day course is being offered online to eligible women in Nepal. The training covers a wide range of topics, including principles of geographic information science (GIS), basic concepts of remote sensing (RS), image calculation and spectral indices, and mapping using open source tools to solve emerging environmental problems. Details at https://servir.icimod.org/events/empowering-women-in-geospatial-information-technology
It is great to see that ICIMOD are using Free and Open source GIS in their training programs. Details on their recent training event for Virtually empowering women in Nepal with geospatial skills during the COVID-19 lockdown at  https://servir.icimod.org/news/virtually-empowering-women-in-nepal-with-geospatial-skills-during-the-COVID-19-lockdown
GeoForAll community would like to send our congratulations to ICIMOD for organising this important initiative . This is an excellent example of  Bridging the Geospatial Digital Divide and providing geo digital economy opportunities for all [1],[2],[3],[4].
GeoForAll community would also like to thank Women in GIS, Kenya [5] for their contributions to GeoForAll. Details at /geo-for-all-labs/women-in-gis-kenya/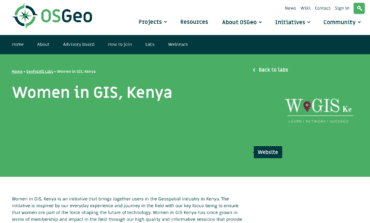 Please keep sharing GeoForAll ideas and educational resources so that more faculty and students have access to the resources
/foundation-news/please-share-geoforall-teaching-research-resources-colleagues-students/
GeoForAll community are grateful to everyone working to make geoeducation and digital economy opportunities available for everyone.
[1] /foundation-news/bridging-the-geospatial-digital-divide/
[2] /foundation-news/geography-awareness-week/
[3] /foundation-news/please-share-geoforall-teaching-research-resources-colleagues-students/
[4] /foundation-news/open-geospatial-science/