A major step to advance the vision of linking research and educational activities on open geospatial technologies in universities around the world was taken by representatives of the Open Source Geospatial Foundation (OSGeo) and YouthMappers. OSGeo and YouthMappers signed a Memorandum of Understanding in the run up to the State of the Map Conference hosted at the Politecnico di Milano in Milan Italy this July with the goal of helping share global geo-information and geoeducation opportunities with all academic communities.
Open Source Geospatial Foundation (OSGeo) is a not-for-profit organization whose mission is to foster global adoption of open geospatial technology by being an inclusive software foundation devoted to an open philosophy and participatory community driven development.
GeoForAll is the Research and Education Outreach of OSGeo, whose mission is to make geospatial education and opportunities accessible to all.
YouthMappers is a university consortium of 120 campuses in 38 countries with student-led chapters who work to create and use open spatial data for humanitarian and development needs. Details are at www.youthmappers.org
Together the organizations have agreed to find synergistic ways to promote common goals. To this end, GeoForAll will encourage universities with open labs to establish YouthMappers chapters to expand students links with the Open Source geospatial community. Meanwhile, YouthMappers will share and promote GeoForAll resources, materials, events, and opportunities. The two groups will collaborate on webinar series and share news with their respective faculty and student communities.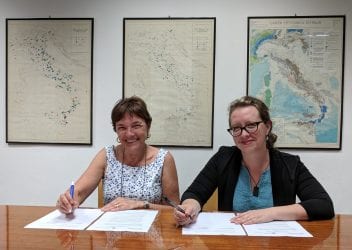 Dr. Maria Antonia Brovelli (Politecnico di Milano) who is Director of OSGeo and Patricia Solís, PhD (Arizona State University) who is CoFounder and Director of YouthMappers, sign the MOU on campus in Milan, Italy, on July 25, 2018
For more information about OSGeo and the GeoForAll initiative, contact  geoforall@lists.osgeo.org
For more information about YouthMappers contact info@youthmappers.org
MoU details at https://wiki.osgeo.org/wiki/MOU_YouthMappers