Over 100 people were helped to attend FOSS4G 2018 in Dar es Salaam by the FOSS4G Travel Grant Programme (TGP). We asked them to share their experiences with us and here are a selection.
This was the largest TGP that we have run and it was only possible because of the generosity of OSGeo Foundation, the FPOSS4G sponsors and organisers, OSGeo:UK, FOSS4GIS (Germany), FOSS4G Europe and a lot of people who donated to our crowdfunding campaign. If you would like to help more people to attend FOSS4G 2019 in Bucharest then please donate here
"It is very important to understand *why* the TGP is important. Why we do
what we do. It is not charity. It is not throwing money to feel
better. It is not spending money to wash bad behaviour.

Our intent is to grow and improve our community with more and more
people that, otherwise, would not be able to attend. It is enriching
our community with active people.

If only a fifth of this year's TGP participants continue working on
OSGeo and grow the community in their area in the following years, I
would be really happy and I would feel it was a good investment."

Maria Arias de Reyna, President OSGeo
Ngumenawe Samson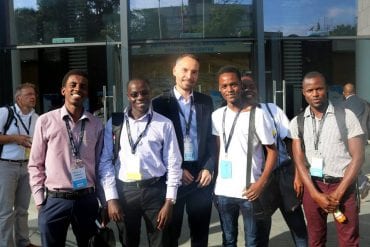 Excitement started from the day I received an email that I had won the travel grant to the 2018 FOSS4G in Dar es salaam. It all began when I submitted my paper to be considered for the presentation at the 2018 FOSS4G. Clean Streets Kampala is a MapUganda project running in Kampala City with the major aim of creating open data to make the city clean. My paper was subjected to voting and it emerged as one of the accepted presentations at the conference with #374 as its identity.
It was the best experience to cross my country for the first time to attend the first international conference. Me and a team of youth mappers left Kampala on Saturday August 25th using a bus for Dar and the journey was fun. We arrive in Dar es Salaam on the morning of August 27th. We checked in our hotel and then went to the conference center where we were welcomed to the conference, given tags, t-shirts and other stuff. welcome to FOSS4G
The 2018 FOSS4G was my first ever FOSS4G conference to attend and my experience is unforgettable because of so many friends that I made, workshops I attended and presentations. Friends The conference organization was on point and the most amazing part of the conference was the use of Attendify app that made the whole conference paperless. There was also a lot of new things to learn during workshops and presentations like how different geo-spatial practitioners are using open source tools in their daily work, Gender inclusiveness in OSM communities, new softwares and many more.
I would like to Thank the organizers of the 2018 FOSS4G conference for their wonderful work, for the travel grant program. Special thanks also go to the HOT team and all other sponsors for making the conference happen. Asante sana.
The 2018 FOSS4G left no one behind
Ngumenawe's full write up is here
Innocensia Owuor
I'm Innocensia Owuor, a Geospatial Engineer from Nairobi who works at Kenya Power; the national power distribution company. I'm one of the grantees who was selected to attend Dar es Salaam during FOSS4G2018.
I want to thank you for the opportunity to attend this conference as it enabled me to meet open source geospatial technologies innovators, learn about the latest industry trends and network with other like minded attendees.
I look forward to the FOSS4G2019 conference in Bucharest.
James Magige
I am James Magige, a finalist student at Kenyatta University, Kenya. We met in the FOSS4G2018 and you really inspired me to greatness. I learnt more than enough of the Open Source Software community. I appreciate all the things and wish the sky doesn't limit me from achieving my dreams. I am starting a Kenya missing map mapping project, with all the youth mappers in Kenya, so that we create data. I am also looking for a scholarship to study GIS and Remote sensing.
Esaie Dufitimana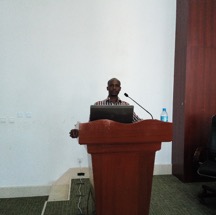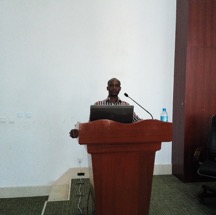 It was my first time to be at FOSS4G conference and how amazing was it? Imagine being together with the largest community in geospatial industry including developers, users, decision-makers, academicians and researchers from every corners of the globe. As a GIS developer and Remote Sensing analyst, it was a good experience for me to expand my wing. I was surprised to find out how other data scientists are using open source software.
It was amazing for me to learn more from OSGeo community and I am interested in starting an OSGeo Local Chapter in Rwanda. Furthermore, it was a huge opportunity for me to meet other mapping communities' members from OSGeo, YOUTHMAPPERS, OSM, HOTOSM and. Meeting leaflet, PostGIS, and OpenLayers users was a big advantage to ward my carrier development.
Through FOSS4G I have got a lot of skills and knowledge and I am sharing the acquired skills with my community.
Vivian Kerubo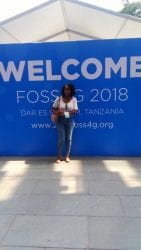 FOSS4G Conference was an amazing experience for me as a travel grantee. I anticipated for the Conference and I was excited to be surrounded by people who were passionate about open geospatial software. I received a travel grant which came with privileges to attend all workshops, covered for transport and accommodation. I met different people from wide range of organizations and field operations around the world which led to close friendships, networks and entertaining happenings throughout the week. I already miss the close friends I made while away. The majorities of people were in GIS careers and gave me ideas of places to look for opportunities in terms of internship and employment and this made my career path. I learnt more about different open source software that I did not know before and made me realize the usefulness and made me have ideas on what projects I could come up with.
The speakers were inspiring, surprising and opened my eyes on what is out there in the GIS realm. The vast range of events gave me opportunities to network and learning from each other through sharing of ideas. It was interesting to learn about drone mapping and how it can be useful in remote sensing projects. I volunteered in the different workshops which made me learn more on time management and decision making.
The gala party was amazing I enjoyed different live performances like traditional dances songs, socializing and the breeze from the Indian Ocean. As an environmentalist I have learnt a lot and through this knowledge capacity on open source geospatial software I know I can come up with projects in the community in my country Kenya that can help solve most environmental problems that we are facing as a county. I am grateful for the chance to participate in the FOSS4G 2018 HOT Summit looking forward to the FOSS4G 2019
Ngailla Alpha
It was my first time to attend FOSS4G- 2018 that held in Dar es salaam, I felt very honored and privileged to be among of the people who were selected to attend a such big and fantastic event.
As a secondary school teacher by professional  i had an opportunity to intercact, learn and acquire various skills and knowledge about various aspects particularly the use of technology in addressing and offering solutions towards various challenges in our community. I am planning to share the skills and knowledge gained from the FOSS4G -2018  conference to my students by launching " MAPPING CLUB" this will help students to have much wider understanding about geography and Qgis also to share with  groups of mapping  in muleba district and Kagera region at large.
Travel grant programme was very important to me to attend the  FOSS4G conference otherwise probably I could not attend. My profound thanks goes to the FOSS4G 2018 organisers, Travel grant organisers and donors, Registration committee, Crowd2map, my fellow  attendees.
Thanks,
Alpha Richard Ngailla
A secondary school teacher at ikondo secondary school in Muleba district- Kagera Region.
Ssebaggala Michael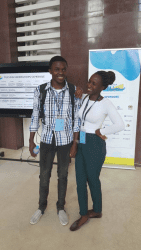 Dar-es-salaam is a great city that I was fortunate to visit during the FOSS4G 2018 trip at the back of a 3 day trip from Kampala. The entire visit was an eye opener about the capabilities of free open source software such as QGIS, GRASSGIS, and PGIS etc. As a land surveying and geomatics student, it was great to find out alternatives to the already outdated and license-only software, ArcGIS. The ideas of training algorithms to actually do the vectorization of buildings, roads etc. from digital imagery automatically by programs instead of doing it manually resonated well with my studying area. I also learnt how these algorithms can also be used to extract information from construction sites and actually determine the work accomplished in real time.
Back at my university (Makerere University Kampala), I've already started disseminating this and all other related information with the geomaticians, developers and other academicians that can further these ideas into solving real world problems. Personally, I got the desire to take upon programming more seriously (especially in python) as this is very essential in using all the open software to give me what I want from them. The travel grant program is really important in all honesty as I wouldn't have arrived in the city for the conference. The grant therefore will cover all the necessary transport costs for the 5 day round trip journey plus other immigration costs like yellow fever letter acquisition, foodstuffs along the way and so forth.
Asante sana Ssebaggala Michael
Mats'eliso Thobei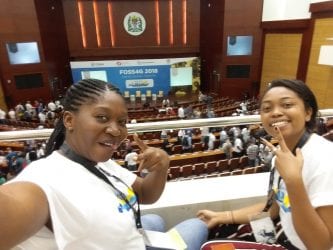 My trip to FOSS4G2018 from Lesotho was successful and eventful. There were eye opening talks about use of Open Data as well as social events and hangouts. I learned that FOSS4G is a platform for collaboration, business and networking. I also discovered that FOSS4G conference plays a major role in establishing the Open Source Geospatial Community by offering a large crowd of people from different countries the platform to gather in person and exchange ideas.
I became fully aware of how diverse the open source community is and how it is used by people from various discipline and that to me became prominent in the keynotes. That then hit me, and there and then I created Lesotho OSGeo Local Chapter of which I intend to see Lesotho taking part in FOSS4G community. As a spatial planner all I thought was useful to me was how QGIS is used to manipulate data in making spatial plans but from this conference I intend to go beyond that and spread my wings. Open Data can't only be used by professionals, it is also helpful socially, economically and environmentally. There are some departments in Lesotho which I think can benefit from open data such as health and education to name but a few.
I also enjoyed volunteering as that taught me a thing or two; time management and instant decision- making being top of the list. I'm really grateful and appreciative to the FOSS4G granting me the opportunity to have such a wonderful experience.
Baovola Marie Anna
I was a speaker during the Free Open Source Software for Geospatial (Foss4G) 2018 in Dar Es Salaam from August 27th to September 2nd. This was my first time ever as a speaker at an international conference. Actually, this huge event featured workshop sessions, presentations, keynotes related to GIS as well as social events. Consequently, I can say that I've discovered lots of experiences by knowing different types of technical skills, best practices, strategies, high-tech tools, and many open source software.
In addition, I've participated on the volunteering program, which was my best ever and very powerful experience. In fact, I've learned from my task not only how to schedule but also how to manage both human and material resources. Also, I have made many good and smart friends. Yet, I had never done chairing but during this conference. So, I have got many professional contacts and have known their interesting projects.
Furthermore, two things marked me from that moment, the first is the beginning of the OSGeo Madagascar Chapter, which was created by myself with Jeff McKenna (the Co-founder of OSGeo) and the second is that I run-up one ESRI's book prize. Last but not least, the Travel Grant program was essential in helping me to get to Dar and to have made it happened because not only it facilitated my trip, but it also gave me privileges and opportunities to networking with smart people. Indeed, I believe in collaboration.
Micheal Kaluba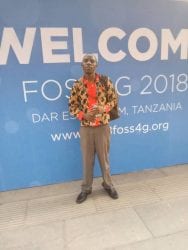 I am Micheal Kaluba and I am the current president of Good Mappers at Busitema University. First of all let me extend my sincere Appreciation to travel grant awarding team for considering me worthy to attend my first FOSS4G and if it wasn't for this grant i wouldn't surely make it for the conference because am a full time student and getting such an amount of money for transport is very hard but you made it possible for sure, thank you it was such an amazing experience and I hope to attend more these conferences.
The very first thing was that i met people that have been just contacting online, we met in person many of them, Secondly, i learnt that i got a lot to do. I brought back home several thanks like how to create map stories,slight deep understanding QGIS,Arcgis. The different Free and open source Geo-spatial Tools,the Usage of ODK in the field for data collection, using data analytic tools for disaster response.
Thanks for for everything Wish to be there again next year please
Natalia da Silveira Arruda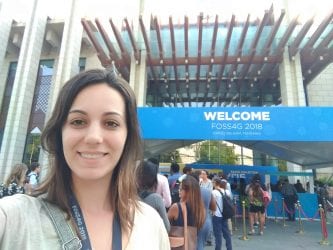 FOSS4G 2018 in Dar es Salaam was my first FOSS4G, and it was fantastic! I got together with a lot of interesting people and I met again people I had the opportunity to know in other events and projects, and thus strengthen contact networks.
It was enriching to see so many topics and lines of work that can be framed in the open source world. That wealth of possibilities is what I want to take back to my academic community and by extension to the communities with which we manage to work. The generation of data in quantity and quality is a necessity to better understand our world. Only by knowing the reality, through a well-made diagnosis, we can achieve the sustainable development goals. This is the reason why data not only need to exist, but that it need to be accessible to all.
I received the Travel Grant Programme to participate in the FOSS4G, and it was essential to be able to join it. I really wanted to be part of this, but I would not have been able to assume all the costs of traveling to Dar es Salaam from Latin America. I express my gratitude for the opportunity provided by HOT, and I appreciate the diversity that they generated in the conference through their travel grant programme, they put into practice the 2018 FOSS4G philosophy: To Leave No-one Behind.
Lucia Marsicano
Foss4G2018 was my first Foss4G. Thanks to the travel grant program, I was able to join this amazing event in Dar Es Salaam.
It was my first time at a Foss4G so I had the possibility to discover an incredible community from all over the world. I mostly assisted to talks on 3D maps and GIS and every presentation was interesting and inspiring. During the sessions I met people with whom I had conversations on different topics related to cartography, cultural heritage, 3D modeling, discovering new tools and solutions useful to my researches.
The conference was very important to me because, thanks to this experience, I realize what direction to give to my career. As archaeologist I am a great user of maps and GIS software but I realize that is important to be involved in the creation of specific tools and methodologies.
Further, I had the chance to discover an amazing country, a fascinating culture and great people.
Exavery Kigosi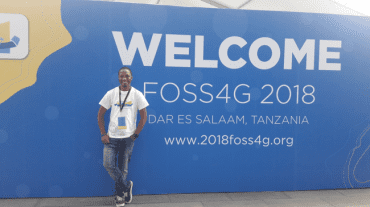 It was a week, intensive week. No talk aimed to be left. It was a week of changing presentation rooms for different talks. Actually it was an amazing week in my geospatial career. FOSS4G conference was great opportunity for me to attend as it was a room for me to see how different people applies geospatial technologies for different humanitarian services where the world is stressed particularly in food security due to climate change and population growth.
FOSS4G was more than a conference to me where by I got great opportunity to be exposed on how others are using geospatial technology in making a world a better place for everyone to live in through food security: availability, accessibility and nutritious. It was a room to observe what others have done in food security.
It was a moment for networking with different people from different backgrounds but all found working in the same field of study. Software engineers, programmers, coders, analysists, ecologists, agronomists, politicians, etc found all are and can be sailing in the same boat of geospatial technologies. This was an amazing opportunity for me and I take it as a challenge of keep on attending more open geospatial sources software in the future.
Thanks for the team that made a lot of efforts for fund raising and secured some funds which enable me to be amongst travel grant beneficiary. They should take this from me that their time, effort and energy have not been lost but has made great impact in making a world a better place for everyone to live with food secured world. Also, I am privileged to take part of volunteer team during the event. I am real glad for that putting my time, energy and effort on it. FOSS4G 2018 has exposed me to know that we can make a world a better place for everyone one to live through geospatial technology by apply open source tools only.
Chris Ekise
I must first and fore most thank all the organizers for successfully organizing such an important function in DAR. It was a function full of great people, great ideas, great experiences, great technology and above all wonderful visions and dreams on ways to better human life. It wasn't shot of fun, excitement and great interaction among participants.
One of the topics that interested me was open street mapping. How OSM has changed mapping is striking. It is no longer lack of a programme for mapping, it is time and resource for there is much to be done. Not only OSM that is free, Qgis among many that are beautiful programs with free license. Thanks FOSS4G for bringing this to light.
I intend to introduce OSM in our community and mostly to our youths who will play an important role in mapping. The knowledge of mapping is important for resource mapping & planning.
The conference has changed positively my view on importance of geospatial information and especially in involving most of the community members from the lowest level of the community to the highest. This enables each one involved to play an active role in deciding how, when and what to consider in the mapping. This will be very best owned by the community themselves.
Faneva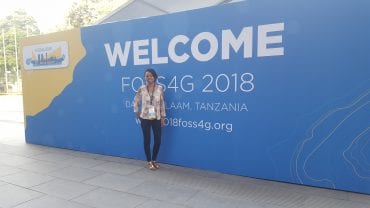 I was privileged to attend my first FOSS4G in Dar Es Salaam in 2018, I was a travel grant recipient. The Travel Grant Program helped me to pay for my travel ticket from Madagascar to Dar Es Salaam.
It was awesome and fun meeting many people who I knew virtually from my social networks such as Twitter, GitHub and Gitter.
I attended GeoServer and Geonode developers workshop, some of the stuffs I already had some knowledge about through GeoNode. I also had the opportunity to learn new stuffs. During GeoServer workshop we learned how to develop Geoserver with Eclipse, how to build with Maven and also put together a simple OWS service. With my experience and lessons learned from these two workshops, I will to be able to make changes and updates to Madagascar Geonode instance. I also volunteered during the conference helping other participants get around with ease.
A friend has created OSGeo Madagascar chapter, this is a great avenue and way forward to promoting OSGeo projects in Madagascar and we will also continue to share our experience in OSGeo tools and projects in this respect.
Rachel Kumwenda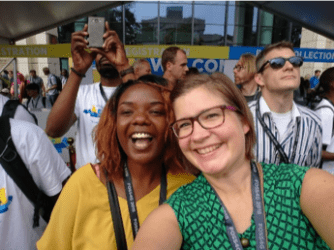 Being selected as one of the speakers for the FOSS4G/HOT summit was thrilling and being one of the travel grantees was a jump for my career as I was going to meet the best people in my career. This was my first time to go outside of my country and interact with open data enthusiasts. The first event in the beautiful city of Dares salaam was the Geo-Chicas event. I met amazing women in Tech and interacted with several hearing amazing projects and work that are being done for OpenStreet Map and OSGeo.
The conference day started with an opening ceremony followed by presentations from various presenters. Presented my project where I am applying GIS and OpenStreetMap in Earthquake mitigation. This was an opportunity to speak in front of different professions.
The gala event was just amazing followed by visiting different booths, getting stickers, meeting developers learning more about OSGEO until the last day of the conference included more sessions and the HOT summit where we had talks about OSM Africa. Finally I attended the Esri-Youthmappers workshop at Ardhi University and learnt to create story maps.
All this was made possible because of the Grant that I was awarded and I would like to thank all those that sponsored and the whole team including Rachel VanNice for working tirelessly just so I can be able to attend. Thank you!
Malena Libman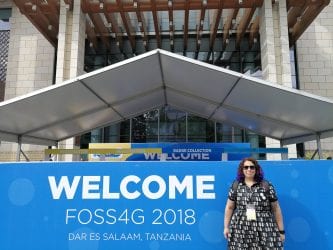 It was such a joyful moment when I got that email saying I got the travel grant, and because of that, I was able to participate in my first International Conference overseas. It has been a very important experience at a professional level, not only because I could exhibit my work in an important context. Also, the recognition and responsibility resulting from the fact that the allocation of the grant came from evaluating that my participation could result in a significant contribution to the community of open source and free software in Argentina. To be part of an event with so many people around the world, carrying the FOSS projects that I use all the time, every day was a dream come true. The opportunity to interact with other cultures, in the context of a society so different from ours was also something that was very rewarding for me. In addition, deepen and broaden contact with people more active and influential in the world in this field, opened me a range of perspectives to participate and develop different activities altogether and orient myself better about how to develop my career once I have graduated.
I think that today the situation in Argentina is particularly conducive to operate as a reference in the region in the development of FOSS applied to geomatics. To do this, there have been a number of situations. On the one hand, our costs, at the international level, are low. On the other hand, there is a very good base of developers and specialists who all the time contribute from various disciplines to the creation and strengthening of this type of tool in our country. In particular, the community of Geoinquiet@s Argentina, on whose behalf (and with whose support) I went to the Conference; it is working hard for years on the issue. Having already made three conferences, at the national level (2012, 2016 and 2017) with a great response, we are already organizing for the coming year, as well as instances of training carried out in different spaces and universities, as did it last year here at UNTREF.